Title
: The Oath - Maddy and Silenus
Author:
Susan Badaracco
Genre/Age
: Fantasy Adventure
Series
: The Oaths (Book One)
Publisher
: Self-published
Links
:
Goodreads
Synopsis
:
When her past merges with her present, Maddy is not sure what to think. Was that really an abduction she witnessed? Does she have the courage to find out?

Silenus is a unicorn haunted by his past failure to protect his charge. His training is relentless, but is he fierce enough to protect this innocent? Will she even trust him?

Can a mortal and immortal pursue the truth together or will Maddy pay the ultimate price?
---
Five Favorite Movie Scenes
Note from Dawn: Images added by me!
The World According to Garp
Garp's mother is standing in front of a house with a real estate agent. As they watch, a plane crashes into the roof. She says, "We'll take the house. Honey, the chances of another plane hitting this house are astronomical. It's been pre-disastered. We're going to be safe here." It was a great set up for the irony of the entire movie but it also had a touch of wishful truth. The very human notion that when terrible things happen, it should somehow give you karmic credit and protect you from other horrible events. The whole movie was genius.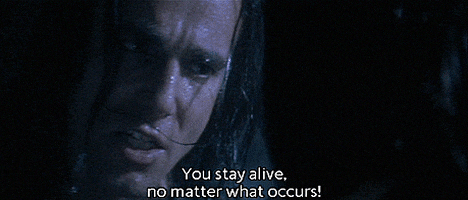 The Last of the Mohicans
Hawkeye is talking to Cora in a recess in a cliff overlooking a waterfall. They're trapped and capture is imminent. Hawkeye plans to jump into the water but he knows that Cora would not survive. His lines: "No! You stay alive! If they don't kill you, they'll take you north to the Huron lands. Submit, do you hear? You're strong! You survive! You stay alive, no matter what occurs! I will find you! No matter how long it takes, no matter how far. I will find you!"
Water is spraying into the cavern and dampening their faces and clothes.The noise of the falls is ominous, thundering, and Hawkeye has to shout to be heard above it. His voice is urgent, demanding, raw. The viewer wants to take Cora's place, to have someone declare their love no matter what. To pursue us, no matter what. It's a beautifully intense scene.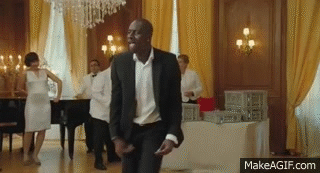 The Intouchables
If you've seen it, you know that I have not misspelled the title. If you have not, you really should find it and watch it. Now. It's a French movie, subtitles and all, but you'll forgive the hassle once the movie starts rolling. It's based on the true story of a handicapped millionaire and an ex-con who becomes his caretaker and friend. It's classified as a comedy but one comes away from the movie feeling like you have learned something wonderful about human nature. It dawns on me that I cannot tell you my favorite scene because I want you to enjoy the experience for yourself. You'll recognize my favorite scene when you see it….
Field of Dreams
I'm a doctor, a pediatrician to be exact. There is a scene in the movie where a little girl has fallen from the stands. She's not moving and her mother and father are frantic. On the field are the ghosts of baseball players, including a rookie that ultimately became a doctor and never fulfilled his dream of playing baseball. He realizes what has happened to the young girl. He moves toward where she is, weaves around the other players, stops for a moment at the edge of the field. You can see a split second of indecision before he crosses over the line and transforms from a young man to an elderly doctor.
Naturally, he saves her. It is then that everyone, including the viewer, realizes that he can't go back. He lost his chance. But you see his face, his acceptance, and I recognized the feeling. Missing countless social events, spending holidays at the hospital, I feel like I've crossed that same line. And I would do it again…so don't feel too bad for the old man. In our hearts, we know where we belong.
The Princess Bride
The movie starts with a grandfather reading to his unenthusiastic grandson. The boy gets interested with time, and who wouldn't, the book has fighting, torture, love, giants…the list goes on. The drama is actually a romance between Buttercup and Wesley, the farm boy. Wesley spends a lot of time answering Buttercup by saying "As you wish". With time, she learns that this really means I love you. The movie should be silly but provides a satisfying mixture of suspense, action and humor.
The end scene is my favorite.
Grandson: Grandpa, maybe you could come over and read it again to me tomorrow.
I guess I just love cheesy happy endings.
Susan Badaracco is the author and independent publisher of "The Oath: Maddy and Silenus".
In her real life, she is a pediatrician at Kids First Pediatrics where she routinely consoles anxious moms, retrieves interesting objects hidden in ears and laughs at made up knock-knock jokes.
She lives with her husband, a dog (ADHD is not limited to humans) and a cat. Her daughter and son both made the unfortunate decision to grow up which means she travels more than she used to.
Susan Badaracco Author Information
a Rafflecopter giveaway